KCPA Print and PDI Exhibition 2019 Information
KCPA PRINT AND PDI EXHIBITION 2019
The exhibition opened for entries in February and closed in March.
It was very encouraging to see some members entering the exhibition for the first time this year, and of course great to see back those regular members that enter every year, and you get to recognise their work as soon as it is put in front of you.
Just over 150 members entered the exhibition, slightly up on last year.
If you enjoy entering the exhibition, please encourage your fellow club members to enter in 2020.
Stats for 2019
PRINT's 920 images were entered, less than in 2018
PDI's 1205 images entered, up 30% more than in 2018 (main increases in Colour, Nature & Portraiture categories).
Roughly the same number of images entered as in 2018 but with PDIs counting for more this year.
Selection Weekend :
The KCPA opened the doors at Detling Village hall for the 5th open selection event, on Saturday 23rd & Sunday 24th March 2019.
It was good to see the club members in the audience viewing the selection of the KCPA. If you enjoyed the event don't forget to tell your fellow club members, so they can come along next year. Unfortunately, whilst not all federations offer their club members a chance to come along and watch the section taking place, it is slightly disappointing that each day only attracted around 30 club members. It would be great to see many more of you in 2020.
Thank you all those that came along over the weekend, I hope you enjoyed seeing over 1200 pdi's and over 900 prints being scored.
My sincere thanks also go to the many helpers that came along to help over the weekend incuding, Jane Puncher, Penny Lewington, Chris Shore, Alan Lomakin, Rupert Brun Roger Parker, Steve Carroll, Clive Tanner, Carole & John Lewis, Joan and John Austin, Lorraine Grey, Chris White, and Rosalind Eastman.
2019 saw some changes in the entry for the exhibition, in that we went back to our old pricing, of £5 for a minimium of 3 images and £1 per addtional image. Our nature definition also changed to take into account changes in PAGB definition introduced in 2018.
Our selectors, Gordon Jenkins APAGB, Dianne Owen FRPS, and Colin Westgate FRPS MPAGB MFIAP did an amazing job of scoring all the images via buzzers, especially over a time period of just 1.5 days. Each of our selectors scored each image from 2 to 5 (images, therefore received a score of between 6 to 15).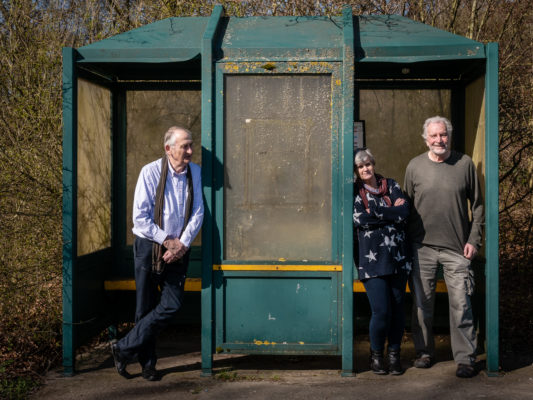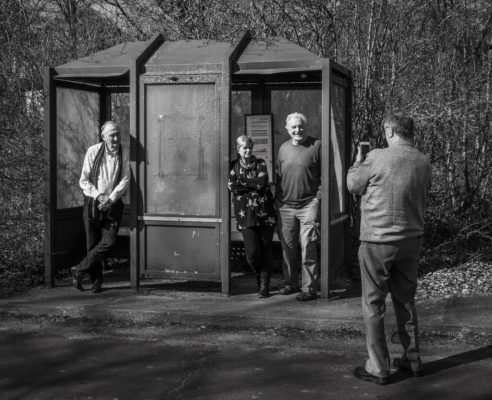 Thank you to all of you that joined in the exhibition. Hopefully, I will see you at Creek Creative during the exhibition showing.
Exhibition and presentation venue :
The KCPA exhibition will take place at Creek Creative, 1 Abbey St, Faversham ME13 7BE. Tuesday 30th April @ 10:00 am – Sunday 19th May @ 4:00 pm Open: Tue–Sun, 10am–4pm. (Please note venue is not open on Monday's)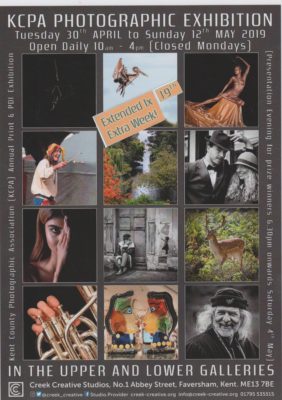 The presentation evening (which is invite only), will take place at Creek Creative on Saturday 4th May 6.30 - 8.30 pm.
Winners of medals, ribbons, and merit awards have been sent an invitation to attend. If you have not responded yet, please do so.
I would personally like to thank the many exhibition entrants for their kind emails of thanks, it is appreciated. I believe, as exhibition coordinator, I have one of the best role's on the committee, in that I see the images first hand and like nothing better than seeing more of them coming in. Why not put a new folder on your desktop and spend the next 11 months adding your best images to it, in preparation for the KCPA Exhibition 2020. It would be great to see even many more images coming in next year.
With Thanks.
Tracy Hughes
KCPA President & Competition/exhibition Coordinator.
UPDATES :
It is from our KCPA Exhibition images that images are selected to go forward to represent the KCPA in the PAGB Inter Fed. If you have been contacted by myself please ensure the requested image(s) are sent asap in order for me to submit them on behalf of the KCPA.
Details of where these images will be judged, can be found via the poster below. (please note details of images submitted will not be published until the results come out from the PAGB later in June).
The Exhibition was taken down on 20th May and will be available to collect week commencing 27th May, from myself. Please email competitions@kcpa.co.uk to arrange collection of your prints.
Many Thanks
Tracy